HOME
ABOUT US
EVENTS/TICKETS
FIGHTERS
CONTACT US
PHOTO GALLERIES
VIDEOS
MERCHANDISE
MATCHMAKING
LINKS
SPONSORS
---
Naples boxer's return a hit after long wait
By Craig Handel, Fort Myers Newspress, September 1, 2010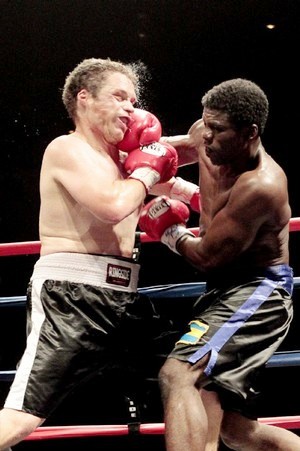 Freeman Barr landed just enough shots to win his first professional fight after a four-year layoff. The 36-year-old Naples boxer has a lot of rust to shake off. Barr edged Dion Stanley on Tuesday night in the main draw of the "War On The Peace River" at the Charlotte Harbor Event and Conference Center in Punta Gorda. Two judges had it 58-56, while another judge had it 57-57.

"I hurt him in the fight; he didn't hurt me," Barr said. "I couldn't finish him that was the problem. If I was in shape and sharp, I would've knocked him out. My timing wasn't right. He came at me hard because of the layoff, but he didn't hurt me. I was in the ring. People see the outcome, but he missed me on a lot of shots."

Barr's trainer Steve Canton said the four years off took a toll. "He showed some flashes," Canton said. "He also didn't have a proper sparring partner." This is a comeback. We'll keep working at it."

Earlier in the night, Fort Myers' junior lightweight Jesus Lule won his first pro bout, earning a unanimous decision over Cuba's Yuniel Ramos. The scores were 38-36, 39-35 and 40-34.

Eerily, the Barr-Stanley match was the quietest of the six bouts for the first couple of rounds. It also was as if the crowd was anticipating how the light heavyweight would do in his first pro fight since Nov. 28, 2006
.
It also was just the third bout for Barr in six years.

Things were so quiet in the main card that one fan finally said, "C'mon, make some noise." The boxers didn't give fans much to cheer about for the first round. The second round heated up. Stanley actually had the better of it, landing a combination that briefly got Barr's attention. That seemed to wake up Barr for the third round. He landed three solid shots that made Stanley (10-4) wobble for a bit.

However, Barr (29-4) couldn't put him down like he had so many fighters in the past.

After little action in the fourth and fifth rounds, Barr landed two more solid shots in the sixth that keyed his victory. Barr is scheduled to return to Punta Gorda for another fight on Oct. 26.

Lule said he felt more relaxed in his second bout, which allowed him to focus more. It also helped that he landed a left hook to Ramos' chin which put him down. Ramos also was penalized a point for excessive holding.
"Do you want to sleep with these tonight?" trainer Steve Canton asked Lule as he cut off his hand wraps. He just smiled. "Is good," Lule said of his first pro win.



Copyright 2010
Brady Productions LLC. All Rights Reserved