HOME
ABOUT US
EVENTS/TICKETS
FIGHTERS
CONTACT US
PHOTO GALLERIES
VIDEOS
MERCHANDISE
MATCHMAKING
LINKS
SPONSORS
---
Champ's Heart Dead Man's Body
By Patrick Obley, Sports Editor, the Charlotte Sun September 7, 2010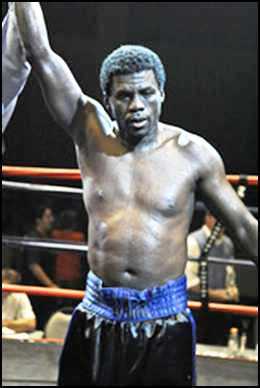 The Bahamian boy who had once slashed and burned fields before rising to the top of the boxing ranks had become a broken-down man, older than his age, reeling from an all-to-often deadly affliction that played no favorites.

He took steroid injections directly into his eyes to stave off blindness. His hospital stays were numerous and, at times, lengthy.

Like this one…

Four days had passed this time before the doctors turned him loose, his sarcoidosis apparently in check once again.

He left the hospital, but instead of turning left, he went right ... directly to the gym.

Once there, he demanded a sparring session against every man in the building. It went on for hours. He stopped throwing hands only when he ran out of chins to throw them against.

Florida Boxing Hall of Fame trainer Steven Canton still marvels at that day, when Freeman Barr shrugged off his life-threatening illness and resumed his boxing career.

Fast forward to August 31…

Dion Stanley rolled into Punta Gorda from Dodge City with the ballsy claim that he was a great-great, something-or-other to the legendary Wyatt Earp. He certainly had the look of a tomato can: wide and without definition. But he came armed with knowledge of his opponent, for that knowledge wasn't hard to come by.

Everyone in the world of boxing knew of Freeman Barr, the man who came within a whisper of winning a major world title only to be felled by sarcoidosis. Few really knew what became of him in the intervening years.

No matter. Stanley had 10 bouts under his belt during the four years since Barr last fought. He came in hungry to make a name for himself against someone who used to be somebody.

And he almost did...

Rewind to a nameless steamy South Florida day in 2007 at the SJC boxing gym.

In a tattered ring stood Barr, stabbing at a sparring partner, picking at weaknesses while honing strengths. Canton kept a close eye on Barr until he saw an elderly man make his way into the building. The man grabbed a seat and watched Barr without uttering a word.

"What year is this?" the man finally asked Canton.

This guy's got a screw loose, Canton thought to himself before saying, "it's 2007."

"That's not a 2007 fighter," the man said, pointing to Barr. "That's a 1950s fighter."

Turned out the elderly man once boxed as well — in the 1950s, when no boxer was known for one specific thing. That's the difference between old-school boxers and today's boxers in a watered-downed sport. Today, there are punchers. There are dancers. There are specialists. They are one dimensional Take away their one tool and they're beaten.

Back in the day, the boxer who lost the first round came back in the second an entirely different man.

Freeman Barr rose to No. 1 contender status shortly after the turn of the century, shortly before falling ill. In between, offers stopped coming, because no one in their right mind wanted to deal with a boxer who could adapt as smoothly as Barr.

On that day in 2007, Barr was ready to resume his march to the top of the boxing world. Yet three years would pass and it all had to do with his success.

Rewind further.

On Nov. 28, 2006, Barr felled Tony Menefee in the sixth round of an eight-round bout. It was his second victory just four months into his original return from sarcoidosis. Canton's boy was back on track. People in the know said one more bout against a ranked foe would get Barr back in the rankings.

But here's the problem with boxing. If you're in the rankings, you want a shot at the champion. The one thing you don't do is take a fight against someone who could take your place.

A former No. 1 contender with a clean bill of health, fresh off a pair of TKOs on the comeback trail?

Take a seat, Freeman Barr.

And so he did. He went back to his day job as an electrician. He played with his two sons. He sparred in Canton's gym, occasionally swapping war stories with the old man who hungered for the good ol' days.

Then, nearly four years later, a former pro football player who loved boxing almost as much as he crusaded against another deadly disease came upon Barr and Canton and hatched a scheme to help everyone.

Fast forward to August 31…

Jeff Brady's first big boxing promotion involved reviving an old favorite. Brady revived the venerable "War on the Peace River" name and slapped Barr onto the featured spot of a six-bout card. In addition to bringing boxing back to Punta Gorda, Brady hoped to raise money to fight juvenile diabetes, an affliction that has stricken his family.

It also was supposed to be a celebration of Barr's latest comeback, the first step in his second march to the top of the boxing world.

A scant 40 seconds into the bout and Barr found himself on the wrong side of 800 ringside critics. The Barr chants morphed into Dodge City catcalls. Unable to find sparring partners prior to the bout, Barr was rusty. He was feeling out this mystery plainsman and the crowd was having nothing of his patience, for it appeared akin to cowardice.

For two rounds Barr danced around Stanley, who chased him to every corner of the ring. In the third, everything changed. Barr no longer dodged. He jabbed, then moved. Stanley's meaty hooks and right hands began missing their target, enraging him so until one point when he missed everything and lost his balance.

Barr could have moved in, but didn't. He waited for Stanley to right himself, then tapped Stanley's gloves with his own in a gentlemanly display of old-school boxing etiquette.

Barr kept dancing and jabbing. Stanley kept swinging and missing.

At bout's end, the judges' cards went Barr's way. The crowd booed, for it thought Stanley's rare connections had been enough.

Barr smiled, for he had used his vast experience and savvy to survive on a night in which he had nothing.

"Being rusty, I couldn't put it together and finish it," Barr said. "(Stanley) knows to come after me, with me coming off such a long layoff. I knew I had this fight because he missed a lot of punches and I landed just enough to win."

Now, look to the future.

Barr knows he's a long way from championship form ... but what happened on August 31 against a pasty tomato can is the reason why Canton has so much hope for his soon-to-be 37-year-old protégé.

"What he realized was he had no energy, no snap and no power," Canton said. "The thing about Freeman is he's so versatile that, when nothing's there physically, he can win a fight with nothing more than heart and experience.

"He could see everything coming, but he couldn't throw anything. What he did was throw just enough to win the rounds. When everything is going good, you're supposed to win. It's when everything goes wrong but you still find a way to win that defines a champion."

So now, Barr will wait. Hopefully there will be another bout in October. Until then, he will try to regain the strength that made him so formidable a decade ago. He'll also go about his electrician's gig, wiring up a new Publix grocery store in north Naples. He'll play with his two little boys.

And he'll spend countless hours in Canton's gym, where the old man who liked boxing the way it used to be will occasionally drop by to reminisce.

He's a long way from the burning fields of his Bahamian home ... but with each passing day, Freeman Barr is moving ever closer to achieving his ultimate dream.
Copyright 2010
Brady Productions LLC. All Rights Reserved